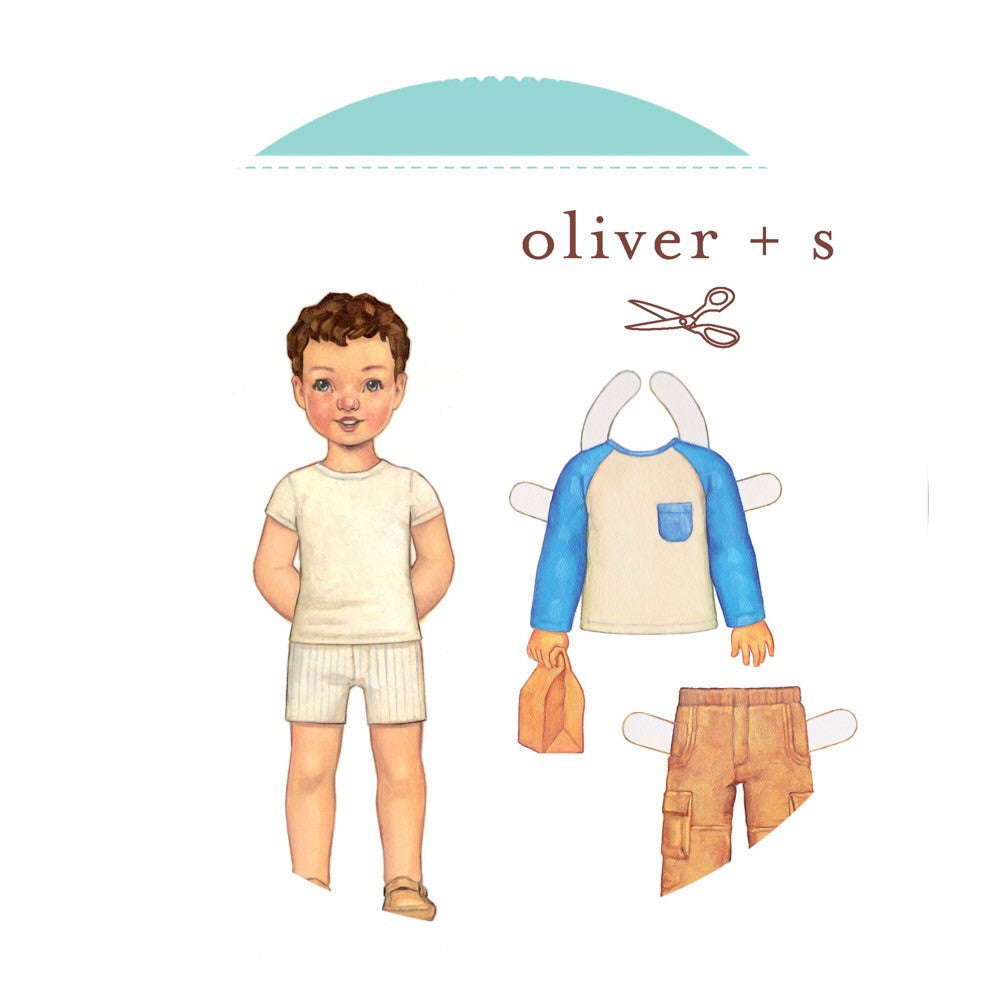 Field Trip Cargo Pants & Raglan T-Shirt Sewing Pattern for Boys & Girls (Sizes 6m-4 years) - Oliver + S Patterns
---
These rough-and-tumble cargo pants will hold lots of tools and important toys for all the exciting adventures headed your way. In addition to the large cargo pockets at the side seams, the pants include back patch pockets and convenient front pockets. The articulated knees and pieced back and front panels give ample opportunity to add topstitching for rugged style. Add the simple knit raglan T-shirt with a chest pocket to complete the outfit.
Skills Used
Each of our patterns calls on a unique set of sewing skills. Haven't ever done one of these things before? Don't worry. We'll walk you through it, step by step.
After successfully sewing this pattern, you will have developed the following skills: front hip pocket, knit fabric, patch pockets, and raglan sleeves.
Suggested Fabrics
Cargo Pants: Light- to medium-weight woven fabrics like quilting cotton, broadcloth, chambray, denim, fine-wale corduroy, poplin, and linen.
T-Shirt: Light- to medium-weight knits with at least 25% stretch.
Notions
Cargo Pants: Coordinating thread, 1 yard 3/4" elastic, one 5/8" button (optional).
T-Shirt: Coordinating thread.
Fabric Guide (fabric width: 44"-45")
| | | | | | | |
| --- | --- | --- | --- | --- | --- | --- |
| SIZE | 6-12 M | 12-18 M | 18-24 M | 2T | 3T | 4 |
| View A, Fabric A | 1 1/4 yards | 1 1/4 yards | 1 1/4 yards | 1 1/2 yards | 1 1/2 yards | 1 1/2 yards |
| View A, Fabric B* | 1/4 yard | 1/4 yard | 1/4 yard | 1/4 yard | 1/4 yard | 1/4 yard |
| View B, Fabric A** | 1/2 yard | 1/2 yard | 1/2 yard | 3/4 yard | 3/4 yard | 3/4 yard |
| View B, Fabric B*** | 1/2 yard | 1/2 yard | 1/2 yard | 3/4 yard | 3/4 yard | 3/4 yard |
| | | | | | | |
| --- | --- | --- | --- | --- | --- | --- |
| SIZE | 5 | 6 | 7 | 8 | 10 | 12 |
| View A, Fabric A | 1 3/4 yards | 2  yards | 2  yards | 2 yards | 2 1/4 yards | 2 1/2 yards |
| View A, Fabric B* | 1/4 yard | 1/4 yard | 1/4 yard | 1/4 yard | 1/4 yard | 1/4 yard |
| View B, Fabric A** | 3/4 yard | 3/4 yard | 3/4 yard | 3/4 yard | 1 yard | 1 yard |
| View B, Fabric B*** | 3/4 yard | 3/4 yard | 3/4 yard | 3/4 yard | 1  yard | 1  yard |
* Waistband facing
** Body
*** Sleeves, neckband, and pocket
Finished Measurements
| | | | | | | |
| --- | --- | --- | --- | --- | --- | --- |
| SIZE | 6-12 M | 12-18 M | 18-24 M | 2T | 3T | 4 |
| Pants, Waist* | 21" | 22" | 23" | 24" | 25" | 26" |
| Pants, Outseam | 16 3/4" | 17 3/4" | 18 1/2" | 19 1/2" | 21" | 23 1/4" |
| Pants, Inseam | 11 1/4" | 12" | 12 1/2" | 12 3/4" | 14" | 16" |
| Shirt, Chest | 21 1/4" | 22 1/4" | 23 1/4" | 24 1/4" | 25 1/4" | 26 1/4" |
| Shirt, Sleeve** | 12 1/2" | 13" | 13 3/4" | 14 1/2" | 15 1/4" | 16 1/2" |
| Shirt, Length** | 10 3/4" | 11 1/2" | 12" | 12 3/4" | 13 1/4" | 14 1/4" |
| | | | | | | |
| --- | --- | --- | --- | --- | --- | --- |
| SIZE | 5 | 6 | 7 | 8 | 10 | 12 |
| Pants, Waist* | 27" | 28" | 29 1/2" | 30 1/2" | 32" | 33" |
| Pants, Outseam | 25 1/2" | 27 1/2" | 30" | 31 3/4" | 33 1/2" | 35 1/4" |
| Pants, Inseam | 17 3/4" | 19 3/4" | 20 1/4" | 21 1/2" | 22 3/4" | 24" |
| Shirt, Chest | 27 1/4" | 28 1/4" | 29 3/4" | 30 3/4" | 32 1/4" | 33 1/4" |
| Shirt, Sleeve** | 17 1/2" | 18 1/2" | 19 1/2" | 21 1/2" | 22 3/4" | 24 1/4" |
| Shirt, Length** | 15 1/4" | 16 1/4" | 17 1/4" | 18 3/4" | 20 1/4" | 21 3/4" |
* Fully extended
** Measured from shoulder at neck
---
Share this Product